About All Saints Nursery School
All Saints is a long established Nursery School originally opened in 1968.  We offer a variety of sessions for children aged two and a half to five, with a maximum of 26 children per session. We have a highly qualified and very experienced staff team who offer a warm, welcoming and stimulating environment.
The Nursery is set in the peaceful and picturesque grounds of All Saints Church.  We have a large grassy outdoor area surrounded by trees and with a large variety of equipment. There are excellent parking facilities and a bus stop just along the road.  We have close links with local schools and visit frequently.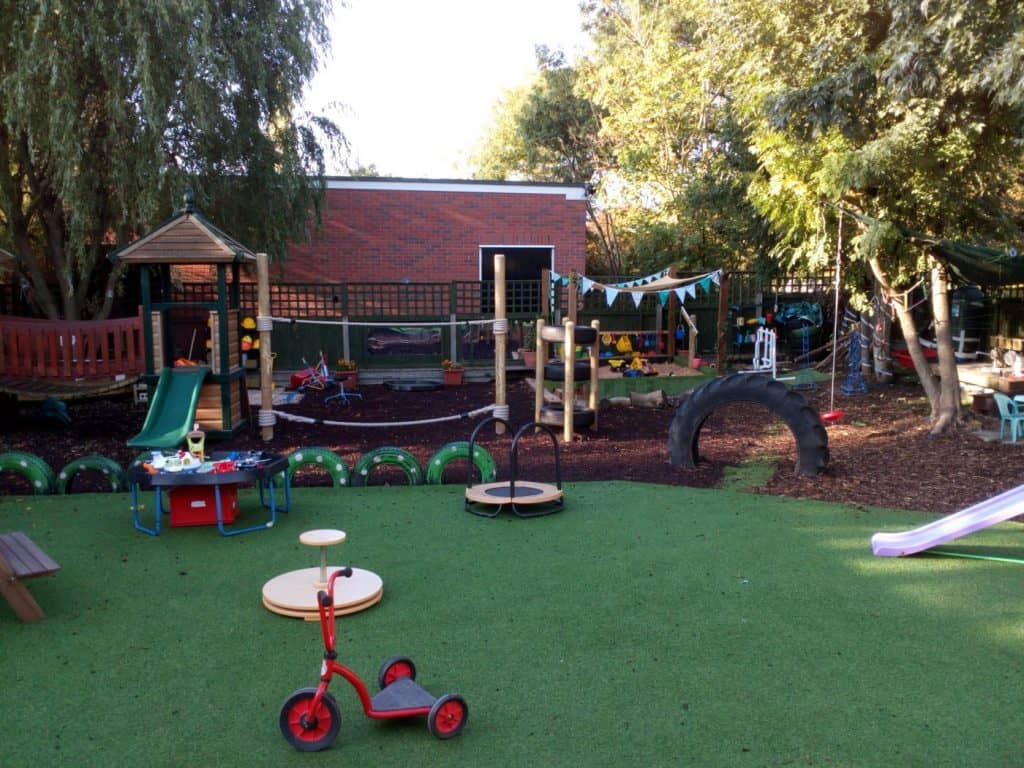 A message from the Manager
Welcome to the All Saints Nursery Website. We hope you find it informative. We aim to provide useful information for new parents searching for the right provision for their child and also a friendly and accessible service for our existing parents. We offer the children a wide range of exciting and stimulating activities as they take those first steps to independence in a supportive and nurturing environment, where each child feels part of the All Saints family.
Of course the best way to really get to know us is to come in and visit. Please contact us at any time for more information or if you are passing call in to meet the staff and see the sessions in action you don't need an appointment.
We organise lots of family events such as Easter workshops, Summer sports days and family picnics, Christmas fairs, music nights, quizzes and much more! The Nursery School is a registered charity. We have a Parents & Friends Group who organise lots of fundraising events for us. Any parent can be involved, the group meets in a very informal way every half term and it's a great way to get to know other parents.
Term 1
Monday 3rd September 2018 INSET DAY – Nursery closed to children
Tuesday 4th September 2018 INSET DAY – Nursery closed to children
Wednesday 5th September 2018 INSET DAY – Nursery closed to children
Thursday 6th September 2018 Term 1 Starts
Friday 19th October 2018 Term 1 Ends
Monday 22nd October – Friday 26th October 2018 Half Term Holiday
Term 2
Monday 29th October 2018 Term 2 Starts
Wednesday 19th December 2018 Term 2 Ends
Thursday 20th December – Wednesday 2nd January 2019 Christmas Holidays
Term 3
Thursday 3rd January 2019 INSET DAY – Nursery closed to children
Friday 4th January 2019 INSET DAY – Nursery closed to children
Monday 7th January 2019 Term 3 Starts
Friday 15th February 2019 Term 3 Ends
Monday 18th February – Friday 22nd February 2019 Half Term Holiday
Term 4
Monday 25th February 2019 Term 4 Starts
Friday 5th April 2019 Term 4 Ends
Monday 8th April – Monday 22nd April 2019 End of Term Holiday
Term 5
Tuesday 23rd April 2019 INSET DAY – Nursery closed to children
Wednesday 24th April 2019 Term 5 Starts
Friday 24th May 2019 Term 5 Ends
Monday 6th May 2019 BANK HOLIDAY NURSERY CLOSED
Monday 27th May – Friday 31st May 2019 Half Term Holiday
Term 6
Monday 3rd June 2019 Term 6 Starts
Tuesday 23rd July 2019 Term 6 Ends